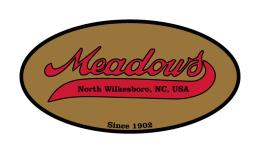 Meadows Mills, Inc.
800-626-2282
---
Meadows Mills Model 35
Meadows Mills Model 35
Meadows hammer mills are durable utility grinders capable of grinding most dry, free-flowing materials. Hammer mills operate on the principle that most materials will grind or crush upon impact with the hammers. The material is fed into a hammer mill from the top and gravity falls into the grinding chamber. The material is contacted by a series of rotating hardened hammers. The material is ground by repeated contact with these hammers, contact with the walls of the grinding chamber, and particle to particle contact. The material remains in the grinding chamber until it is suitably sized to pass through the perforated screen that covers the bottom half of the grinding chamber. We offer six (6) models in our line of commercial hammer mills. The output, or rate of production, of the hammer mill is dependent upon the screen size, shaft speed which is typically 3,600 rpm, and the configuration of the hammers. We offer hammer mills in a bottom discharge configuration (gravity disch
Horsepower Required
30 to 60
Operating RPM
3,600
Grinding Capacity in pounds per hour
2,000 to 5,000
Thickness of Side Plate and Top Opening Section
3/8 Inch
Screen Size, Width x Length
15" x 37 1/4"
Hammers, Number Required
20
Hammers, Size
7" x 2" x 3/8"
Size of Rotor Discs
12" Round
Number of Rotor Discs
21
Swing of Rotor with Hammers Extended
22"
Main Bearing, Type
RAO 2 3/16" 2-bolt Pillow Block
Main Shaft, Diameter at Rotor
2 5/8"
Main Shaft, Diameter at Bearing
2 3/16"
Fan Wheel Diameter and Width
16 1/2" x 6"
Fan Wheel, Number of Blades
6
Fan Wheel, Bore and Construction
2 3/16", Cast
Fan Discharge, Diameter
7"
Feed Opening, Width x Height
15" x 11"
Crated Weight Mill Only Bottom Discharge
1,900
Crated Weight Mill Only Fan Discharge
2,000
Permanent Magnet Length (Optional)
12 1/2"